I haven't been everywhere,
but it's on my list.
Usually, I work as a freelance brand & creative strategist based in Germany. As a hybrid mind, I work for agencies like Leo Burnett, Saatchi & Saatchi, Jung von Matt, Ogilvy, BBDO, Interbrand,
McCann
, Serviceplan, TBWA, Publicis, etc. In various set-ups, I have had the pleasure of co-creating and reshaping the future of quite a few nice brands. Besides that, I occasionally write, speak and, lecture.
Get the full story.
It's time to go brainpacking
From time to time and after 10+ years in this business, I feel some kind of wanderlust. New experiences. New perspectives. New horizons. That's what urges me to go 'brainpacking'. Brainpacking is backpacking armed with the ultimate human super power: our brain. As a pilot experiment, I currently travel the Baltics:
The brainpacking idea is quite simple:
The Baltic edition


Vilnius – Riga – Tallinn
"Decades after the fall of communism, the Baltic countries of
Lithuania, Latvia, and Estonia remain a mystery to most travellers."
For the majority of people it seems to be a mystical region located close to Russia: The Baltic states. The Baltics is a geopolitical term, typically used to group the three sovereign states in Northern Europe on the eastern coast of the Baltic Sea: Estonia, Latvia, and Lithuania. Despite their geographical proximity, the cultures of the three countries are worlds apart: while the majority of people in Latvia and Lithuania are Baltic people, the majority in Estonia are Finnic. Lithuania, the last country in Europe to adopt Christianity, is packed with pagan history. Latvia has incredible landscapes and many cultural layers. Estonia, with influences from nearby Finland, is known for its economic success. The Baltics do not form an official union, but engage in intergovernmental cooperation. All three countries are members of NATO, the eurozone, and the OECD, and belong to the European Union. Last but not least, all three countries are beautiful places, you definitely have to visit.
According to the 6th edition of the Balticbest Festival of Creativity,
three agencies have been awarded as best Baltic agencies in 2019:
#01

DDB

Riga




#02

 Optimist Tallinn


#03

 Not Perfect

Vilnius
WEEK 1
13th – 17th of January 2020
Not Perfect is a remarkable and renowned creative shop in the Baltics who already won numerous awards and still does. Established in 2000, the agency has been shaping the market impressively. The agency is part of the global Young & Rubicam network (VMLY&R) and operates four offices: Vilnius, Riga, Tallinn and Minsk. This makes them one of the most important players in the whole Baltic region and beyond. Not Perfect derived its name from the idea that people stop at something that seems irregular to them – something that is just 'not perfect'. The agency believes that the idea of perfection is the most erroneous concept in the world. In this sense, there doesn't exist any perfection at all. Nevertheless, the agency is known for some literally perfect pieces of creative work. Happy to do some great things together! Visit Not Perfect Vilnius
My week @ Not Perfect Y&R
Welcome to the G-spot of Europe
"Nobody knows where it is but when you find it – it's amazing". Two years ago, the city of Vilnius positioned itself as the G-spot of Europe. For sure, the idea is provoking but it equally follows some smart thinking based on a simple finding: "Vilnius is synonymous with the G-spot theory – nobody knows where it is, but, when it is discovered, everyone is very pleased.", comments Jurgis Ramanauskas, creator of the idea. No wonder that even Lonely Planet picked Vilnius already as one of the top places to visit. After spending one week in this lovely city, I absolutely agree on that.
Today, it has been nearly seven years ago, when I visited this wonderful place for the very first time. Back in those days, the city was fully covered by snow. I remember minus 15 degrees or something like that. It was a true winter wonderland. Postcard style at its best. And today, in January 2020? Apart from some postcards: nothing. Just nothing. No snow at all. Some locals told me that this winter period might be the warmest of the past 200 years. I'm afraid that this is the perceptible result of what we call 'Climate Change'. Exactly at the same time while Australia is burning, by the way. Shocking. Alarming.
However: with its fascinating old town, which belongs to the UNESCO World Heritage since 1994, Vilnius is a place absolutely worth to visit. But not only the old town with its beautiful buildings, cute streets and impressive churches, but also this kind of young, vibrant and progressive atmosphere that you can experience through cafes, stores and bars, is a good reason to make a visit. Maybe the craziest thing I discovered during my stay is 'The Republic of Užupis'. Užupis is a small district within the old town which means 'beyond the river'. Before World War II, Užupis was an important Jewish district not only in the city of Vilnius but for the whole region. Today, the area is famous for its art scene and the bohemian lifestyle. Some people even compare it to Montmartre in Paris. On April 1, 1998, the district of Užupis declared itself ceremoniously the independent Republic of Užupis. Since then, the republic has its own constitution consisting of 38 articles. Some of them are quite wise (#4 Everyone has the right to make mistakes) and some sound a bit weird (#10 Everyone has the right to love and take care of the cat). However, I love it.
After one jam-packed day of doing touristy stuff, I joined the first agency of my brainpacking trip: Not Perfect Y&R Vilnius. At Balticbest Festival of Creativity 2019, Not Perfect has been awarded as number three agency of the Baltics. Not Perfect is part of the global VMLY&R (formerly known as Young & Rubicam) network and ranks among the oldest and biggest agencies in Lithuania and the Baltics at all. The Vilnius branch marks the first, the biggest and certainly the most important office of all Not Perfect companies. Besides Vilnius, the agency runs offices in Riga, Minsk and Tallinn. Doubtless, they are one of the most important players in the whole region, celebrating their 20th anniversary in 2020. The Vilnius office is located in a tech park called 'Sapiegos'. In former days, the complex acted as a military hospital (and to some extent it still looks like one) and is today one of the biggest hubs for tech start-ups in the Baltic region. With the rise of technology in the advertising industry and some appropriate hirings, Not Perfect was allowed to settle down amongst the tech-savvy start-up scene. In the run-up to my visit, I was really glad about joining Not Perfect simply because of their name. Because the agency believes that the idea of perfection is the most erroneous concept in the world. A view on the world that I really like.
After a guided tour through the agency (sounds touristy again, I know), I was lucky to take a cozy seat next to the Creative Directors Rokas and Marius, who also is partner of the agency. This was not only a cozy but also a quite entertaining seat which I learned during that week. The first thing I could observe on this first morning: appearing in the office at 9 am seems to be a more Germanish idea of work. In general, Lithuanians seem to be much more relaxed in this sense. Not least because the Not Perfect guys love to play chillout music all along. I really like this Lithuanian way of working. Apparently, this seems to be part of the 'Lithuanianess' I had heard about already before entering the country. During my week at Not Perfect, I mainly supported the team on a tourism pitch for one of the most important tour operators in the Baltic states. Bringing in some kind of strategic advice without knowing the local market conditions at all and being faced with, let's say, 'tiny' language issues (all marketing materials were available in Lithuanian, Latvian, Estonian and Russian only), was kind of a challenge. But since some marketing challenges in tourism are quite similar independent from location, we could luckily have some fruitful discussions on that topic. While also discovering some travel trends predicted for 2020, I came across with 'The Gig Economy'. A trend which can also be found in the megatrend map created by my forward-thinking and highly appreciated friends of the Zukunftsinstitut. I guess the Gig Economy labeling reflects quite well what I am currently doing here: playing three gigs in a row. This makes me almost feel like being a rockstar. Almost. Well, this Gig Economy trend is closely linked to another one called 'Digital Nomads': "This is more of a lifestyle change where the introduction of new technology allows a new workforce to work wherever they want in the world.", the trend is described. Not sure whether this can be actually called a trend (which implies something new to the world) or rather is an expression of the current zeitgeist that has been happening for many years now. I remember a great book called 'Wir nennen es Arbeit' (We call it work), written by Holm Friebe and Sascha Lobo nearly fifteen years ago now. Still one of my favorite books of all-time. However, this kind of digitally driven nomadic lifestyle is impressively demonstrated by Genius/Steals. Rosie and Faris, the founders of Genius/Steals, have been out of office for six years now. And they still keep on going. Their gorgeous story has been one of my sources of inspiration by the way.
However, being a digital nomad and keep on working remotely for some clients back home in Germany is certainly a second thing that I do during my brainpacking time. Eventually, my brainpacking concept seems to be called 'Biz-cation', according to another travel trend predicted for 2020. Hopefully, this little collage of tourism trends was not only valuable for myself, but rather to help winning the client down the road. During my last day at Not Perfect, I hosted an interactive session about storytelling and the question of how to use conflicts for brands. For me, that was a great opportunity to test my planned contribution for the upcoming Beyond Storytelling conference in Berlin this springtime. Together with the Not Perfect peeps we had some fruitful discussions about this very controversial view on branding. And I guess the conflict-based thinking is something that goes nicely with Not Perfect's idea of imperfection. Thanks guys for sharing your thoughts and experiences on that. And finally: thank you so much for having me! Special thanks to Justina and Paulius who made this possible! My week in the middle of Europe's G-spot Vilnius was a quite satisfying start.
Next stop: DDB Latvia in Riga.
WEEK 2
20th – 24th of January 2020
Founded in September 1995 as 'Brand Sellers DDB', Doyle Dane Bernbach Latvia today belongs to the most important and most influential players in the creative industries of the Baltics. For the second time in a row, DDB Riga has been recently awarded as the no 1 agency in the Baltics at Balticbest Festival of Creativity 2019. During the past years, the agency won dozens of awards at various festivals, not only locally but also gaining some international attention (e.g. at Cannes or Euro Effie Awards). The key driving force behind this success story is a talented team of 40+ people which makes DDB to the largest advertising agency in whole Latvia. At the annual Employers' Confederation of Latvia (ECL) ceremony, DDB even received the title as the Best Employer in the Professional Services sector. Happy to work with you guys! Visit DDB Riga
From Europe's G-spot to its Northern Paris
After having joyfully explored the G-spot of Europe last week, I moved on to my next stop which is regarded as the 'Northern Paris' – better known as Riga, the capital of Latvia. Apparently, there seems to run a golden thread through my little brainpacking tour built on passion and love: at first Europe's G-spot, and now its Northern Paris … what have we got next …?! I am already anxious to learn what my last stop Tallinn is going to call up.

So, but why then 'Northern Paris'? Well, the capital of Latvia not only has a beautiful old town (Vecrīga), but it also boasts an impressive Art Nouveau, or Jugenstil, quarter, recognised by UNESCO. With more than 800 buildings (I haven't counted them by myself, sorry), it is regarded as the world's largest collection of Art Nouveau architecture. Riga's wealth of Art Nouveau buildings stands out as unparalleled anywhere in the world. This Art Nouveau wonderland lies across Bastejkalns park amongst the new town, the commercial heart of the city, whose broad avenues are as awash these days with chic shops, bustling bars and excellent restaurants. For all those who are interested in stunning architecture, the whole area around Alberta street definitely is a must-see. Other impressive buildings are situated on nearby streets including Elizabetes, Dzirnavu and Antonijas. Older than nearby cities like St. Petersburg or Stockholm, and with almost 700.000 inhabitants the largest of the three Baltic capitals, some people say that Riga is the Baltic Sea's sleeping giant. And not only the capital of Riga but also the country on the whole seems to be a sleeping giant: Latvia has 12.000 rivers, 3.000 small lakes, 330 miles of sandy beaches, and more than 50% of the land is forest, making it one of Europe's greenest countries. Sounds gigantic.
For me, Riga is much more than just an Art Nouveau wonderland, the Baltic Sea's sleeping giant or a natural paradise. Riga always gives me this pleasant feeling of coming home. Almost nine years ago, I started my Master studies in Riga at the Latvian Academy of Culture. Back in the days, it actually felt like a little adventure when coming to this foreign region for the very first time. But after climatizing ourselves to this new environment, we were lucky to have spent an unforgettable time here. Because Riga truly sparks a special atmosphere: sometimes vibrant, sometimes melancholic, but always adorable. I love this place.
After two days of checking out all my favorite spots in the urban area, of getting lost in the fascinating microcosm of Riga Central Market, which is Europe's largest market by the way, and last but not least of visiting Jūrmala for a little 20 kilometres beach walk, I finally entered the office of DDB Latvia on a rainy Monday morning. Beyond all question, DDB has been one of the finest players in the Baltic creative industries for many years. In 2019 they have been awarded as best Baltic agency as well as best employer in the professional services sector of Latvia. What a bright look-out for my stay: high-class creativity meets a pleasant working atmosphere. During my week at DDB, I definitely could experience both. But first things first.
My week at DDB started with a warm welcome during their Monday morning meeting where the whole agency team (around 50 people) usually participates in. After a short introduction by DDB's managing director Andris, I took a cozy seat in the strategy department next to Anna, Rihards and Annija. Anna, who is heading the department, showed me all the on-going projects where she and her team delivers strategic thinking. Not sure what impressed me the most: the pure quantity of projects going on, the colorful catalogue of big companies and prestigious brands they are working for, or just the variety of strategic tasks they have to master. However: I was impressed by the important role of strategy at DDB Riga. Facing the fact that the whole country has a population of 1.9 million people, which is half the size of Berlin, I wasn't expecting that strategy plays such an important role here. During that week I could actually learn, that DDB is an agency which absolutely puts emphasis on strategic thinking. And they are really good at it. Moreover, I was happy to support the team on very different jobs. My week started quite interestingly with a contribution to a 'Brand-versus-Sales' presentation, which Andris was asked to give to marketing directors later that week. Recently, they founded their own kind of club called Latvian Marketing Directors Club, similar to the Latvian Art Directors Club (LADC). In the course of the preparation we had some fruitful discussions on this never-ending marketing issue, discovered some enlightening cases and some stunning stats. The other day, Rihards picked my brain to discuss tools and methods for a branding workshop he was preparing for a popular Latvian FMCG brand. Besides that, I worked together with Anna on LMT, which is the largest telco provider in Latvia, serving more than 1 million clients. Since technological progress is changing their business model and moreover the entire industry dramatically, LMT is faced with challenging times. And I think LMT is doing quite well. Recently, they've launched a new division nurturing a more progressive mindset: "LMT Innovations is a branch of Latvia's most-connected mobile operator, dedicated to solutions for tomorrow's technologies." For an established company with more than 25 years in the business this also means a challenge to transform themselves. And that was exactly our topic. Not that trivial. And quite a nice task for a strategic thinker. Because this is actually about shaping the future.
On another day during a lunch break, Andris told me that the Latvian branch of DDB is likewise in a time of change. For Andris, who works with DDB for almost 20 years now, these are quite exciting days, too. Because DDB Latvia will be joining the regional DDB network of NORD DDB. NORD DDB is an unexampled collaboration of the northern DDB offices, including Copenhagen, Oslo, Stockholm, and Helsinki. And their story sounds plausible: "Yes, both NORD and DDB. We are 350 people in four countries, all sharing the same goal: Breaking brands into pop culture." From February onwards, DDB Latvia will be joining this carefully-selected club. This move also includes a renaming: DDB Latvia then turns officially into NORD DDB Riga. This joint initiative of the five DDB offices does not solely illustrate a role model in terms of collaboration within the DDB network, but also underlines an opening towards international exchange and a cross-border service offering for their clients. Thanks for sharing these insights and news, Andris. I guess we are familiar with such kind of glimpses behind the scenes. Something we've already done seven years ago during our chat for my first blog called Mad Men of the World: "There was a big gap between the progressive agencies and the historic styled soviet organizations". The appearance is not that sexy anymore, but content-wise it still is an interesting read, I guess.
Well, after visiting the G-spot of Europe the previous week, I spent these days quite happily with my romantic love affair Riga. It was great to coming back again, and for sure this won't be for the last time. A big thank you to the entire DDB team, and especially to Andris, Anna, Rihards, and Annija! It was a blast working with you guys. Paldies!
Next stop: Optimist in Tallinn.
WEEK 3
27th – 31th of January 2020
When entering the website from Optimist Tallinn, the agency first of all welcomes you with lovely 'greetings from outside the comfort zone'. How pleasant. However, this Estonian space outside the comfort zone seems to be not that bad. It's quite the opposite. While we've learnt that Not Perfect Vilnius believes in imperfection, Optimist comes up with a different and unsurprisingly positive view on the world: because they 'believe in better'. And they actually do so. During the past years, the Estonian agency has been named 'agency of the year' three times in a row. Obviously, they must do some great work. Optimist offers a wide range of services manifesting itself in three divisions: Optimist/Public, Optimist/Digital and Optimist/Motion. Happy to enter the exciting space outside the comfort zone! Visit Optimist Tallinn
Greetings from outside the comfort zone
After having spent one week in Europe's G-spot, and one in its Northern Paris, the urging question then was: what's Tallinn going to come up with? I was excited. And the city did not fail my expectations. Because visiting Tallinn means discovering the 'Estonian treasure of Europe'. I think this is a suitable continuation of my Baltic brainpacking story. So, welcome to Estonia – the final stop of my three-week journey.
Estonia, officially the Republic of Estonia, has a population of 1,3 million people and is bordered to the north by the Gulf of Finland with Finland on the other side, to the west by the Baltic Sea with Sweden on the other side, to the east by Lake Peipus and Russia, and to the south by Latvia, where I travelled from. One fact I was actually filled with wonder: 2,222 islands in the Baltic Sea belong to Estonia. An incredible number. Estonia's capital Tallinn, with a population of 434,562 people, is located in the northern part of the country on the shore of the Gulf of Finland, just 80 kilometres south of Helsinki. I can highly recommend doing a 90 minutes boat trip from Tallinn to Helsinki, or the other way around. This definitely will be a lasting memory.
Before joining the guys at Optimist, I did what travelers usually do: I explored the city. Without any doubts, Tallinn has one of the cutest old towns I've ever seen. More than that, it also has an exciting progressive district called Telliskivi Creative City. Telliskivi has turned an old industrial compound into studio spaces, creative companies' offices, cool restaurants, artsy coffee shops, and fancy beer bars specialising in local and international craft beer. Telliskivi Creative City, once considered a risky investment during the depths of the global recession, has since developed, matured and become a golden opportunity for innovative companies. Especially the Fotografiska is absolutely worth to visit. Fotografiska Tallinn is the satellite-gallery of the internationally renowned photography museum founded in Stockholm. Everyone who works in the creative industries, or just likes this kind of creative stuff, absolutely has to spend some time in the area of Telliskivi.
My workweek at Optimist started quite pleasant. Magnus, one of the founders and CEO of the Optimist Group, kindly picked me up close to my AirBnB on the edge of the old town. Our first stop on this Monday morning was not their office, which is located 3 kilometres southern to the city center, but instead a popular and busy spot for having breakfast. As I've learned from Magnus, this coffee shop is the place to be for many business people in Tallinn. No wonder, that he was permanently shaking hands, waving or nodding to somebody. In Tallinn, people obviously know each other. Facing the fact that Estonia has a population of 1.3 million people in total, with one third living in Tallinn, this really means that "business is people business", as a former boss of mine phrased it once. During our breakfast, I already learned a lot about the local industry and the story of Optimist, too. On their website one of the first sentences welcoming you is: "Our starting capital consisted largely of a belief in better." Later that week I totally understood what they mean by that. Because a couple of years ago, when they launched Optimist back in 2009 during a deep economic depression, they have been perceived as a group of freshmen by some long-established guys. In those days, they were asked how their ambition does look like. And they replied quite confidently: becoming the number 1 agency in Estonia. Well, how shall I put it? They delivered. They've actually rocked the Estonian industry. And they still do. Last year, they have been awarded as number two agency of the Baltics (after a head-to-head race with DDB Riga), and as number one in Estonia. In 2019 they won this title for the third time in a row. Obviously, Optimist is not an one-hit-wonder. They can actually do it in the long run. Today, Optimist is much more than 'just' a creative agency. They call themselves Optimist Group, consisting of 70 people and eight divisions in total. Besides Optimist Creative, there a, amongst others, dedicated divisions for digital products (Optimist Digital) and motion design (Optimist Motion). During my time at Optimist, I could not only experience the creative talent of their award-winning creative division, moreover I noticed high-class digital solutions and impressing motion graphics. Especially the motion stuff can absolutely compete with the big studios out there. Additionally to all that, the Optimist guys are ambitious and think big, of which more later. At large, it's not only a question of size, talent and quality, but also a question of culture and atmosphere. And this is something, I really enjoyed there. Even though they claim for themselves polite 'Greetings from outside the comfort zone', working at Optimist feels a bit like being a comfort zone in the best sense. Even for me, dropping in as a stranger for just a couple of days, it instantly felt very pleasant and even familial.
Interestingly, I was mainly involved in three Estonian-German projects. The first one was an Estonian start-up, going forward called FUNNEST. The agency team realized a rebranding and equipped therewith an already great product with an inspiring and joyful brand. Amazing job. You just have to love this product and also its creators, two ambitious women from Estonia. They developed a special bed for kids – 'created by two sleepy mums', as they label it. Together with these two mums and the responsible Optimist team, we discussed how to approach the German market in terms of positioning, communications, distribution, and partnerships. Hopefully, I could give some helpful advice as well as some valuable insights from the German market. Good luck, ladies! And to all young parents out there: watch out for FUNNEST – the new brand should be launched quite soon. Another project, also linked to the German market, was a digital campaign development. Topic: loans for SMI businesses in Germany. Not a light fare. In this case, I worked together with Anoorupa, a copy writer from India. Yes, absolutely right: she is from India. An Indian copywriter working in Estonia. Fact checker: India with a population of 1.339 billion people meets Estonia having a population of 1.328 million. Crazy. The first question that instantly came to my mind: Why are you here? Why Estonia? Her answer was as simple as reasonable: "I wanted to do something new. And when I was googling for start-ups, I came across with Estonia – and here I am now". Crazy, isn't it?! I mean, yeah, Estonia is well-known and highly appreciated for everything linked to digital, but I couldn't actually imagine that this even brings people from Mumbai to Tallinn. However, after working with famous advertising agencies such as Ogilvy, DDB, and Saatchi as a creative director, she finally settled over from India to Estonia for joining a start-up. And now she is back in the creative industries, working as a creative director at Optimist. We had a good time working together on that project. Thereby, we also discussed some ideas and the right messaging. Amongst others, some of the product's benefits revolved around punctuality and efficiency. During that discussion I learned, that Germans are famous for both. To be honest, not that surprising. But one thing that actually surprised me – a metaphor used in India: When a woman's menstrual cycle is 'on time', Indians say that she is like a German clockwork. Still wondering if this is a compliment or not. However, it was funny. Thanks for this inter-cultural exchange. Btw: A German guy working together with an Indian woman on an international start-up project in the midst of Estonia. We actually do live in a global village. Isn't that great?
Last but not least, I had several discussions during that week with Magnus, Rait, Anti, and Siim – the founders of Optimist – about a big move they are currently doing: starting an Optimist office in Berlin. We discussed various things: from positioning and potential clients, over recruiting and set-up, up to activities and collaborations. These guys are really ambitious and quite smart, and the Optimist Group has a big potential. I really think they can add a noticeable value to the German market. I am excited to trace and to accompany this journey. For sure, they can be quite confident about it.
For me, Optimist has been the final stop of my little brainpacking experiment. I'm now making a move back home to Germany, directly jumping up onto the next project. Instead, the Optimists are doing it differently (and probably more clever): with a bunch of 20+ people they will be spending a weekend in Finnland for skiing and snowboarding. Enjoy and take care guys! And thanks for hosting me! Again, this was a blast.
About the local creative industries
During my time in the Baltics, I've had the chance to speak with some renowned
industry experts to get deeper insights into the local creative industries.
A LITHUANIAN VIEW
Head of Creativity @ The Atomic Garden
Antonio Bechtle is head of the Creativity course at The Atomic Garden in Vilnius (TAG), Lithuania. He took his first steps in advertising as a Copywriter at Leo Burnett Lima, later assumed the position of Senior Copywriter in the Peruvian branch of JWT. After moving to Lithuania, he continued his career at Not Perfect Y&R Vilnius, later – at The Milk, the most awarded agency in Baltics, where he spent 7 years starting as a Senior Copywriter leading to Creative Director. Now Antonio works with international clients as a freelance senior copywriter / creative director and still shares his experience with TAG students. Visit The Atomic Garden
"The demand for excellence was extremely high. So high that there was no room for faking it. That's why I can't stand fakers now."
Hi Antonio! Would you be so kind to give us a crisp 'tweet' of who you are.
I really think that Advertising is all about thinking outside the box. But I also believe that Advertising is the box.
One quite obvious question that comes to my mind: a Peruvian in Lithuania? What the heck ..?!
Please give us an insight into your global career path. What's your story?
My story started randomly. As since before I was born, there was an economic crisis in Peru, no jobs, nothing. I studied Literature, which is like committing suicide in those times. You had to study Law or Engineering to find a job. I was scraping a living with small jobs here and there, but nothing good. Until a friend, who was working in Marketing, told me that there was a position in the advertising agencies called "creative copywriter", and that they basically do nothing and have fun, so I should apply. I wrote to all the agencies saying that I know nothing, but I thought I could be a good creative copywriter. After some interviews and a freelance job, I ended hired by Leo Burnett. I didn't know it was the best agency of the country and one of the three best Leo Burnett agencies in the World. I worked there for a year and a half, and it was one of the hardest periods in my life. The pressure was brutal, the demand for excellence was extremely high. So high that there was no room for faking it. That's why I can't stand fakers now. I was trained like that. After that period, I was hunted by JWT and hired as a senior. But I only stayed there for nine months. Even though I got some national awards and a silver in New York Festivals, that agency wasn't for me. Just a matter of chemistry. After that, I decided to migrate to England. In England things were very clear for me. I arrived and in my first interview in a recruitment agency specialised in creatives in advertising, they told me that I would never be able to work there because I wasn't British. Unfortunately, later I understood that she was talking not only about Advertising. I then decided just to stay in England, doing whatever. So, I ended in a warehouse, working in a cold room. I met some Lithuanian friends there, who invited me to Lithuania. I came with them, but not to Vilnius: to the countryside. I learned to appreciate "Lithuanianness" from the core. And I loved it. Many people don't understand that what I like from Lithuania is the very Lithuanian part, not the modernity, not the cosmopolitan feeling, not the "trendy" kind of life. I like the countryside, the Lithuanian way of thinking, the family way of life. After visiting the village several times for two years, I decided to move. And the best way would be to work in Advertising again. So, I wrote another letter to the agencies, and got a job. And here I am.
Can you tell us something about "The Atomic Garden":
What is it? What's the ambition? And is it a Lithuanian concept? 
I would say that, to me, The Atomic Garden is a happy coincidence. When I arrived to Milk Agency, we started discussing about how the agency should be like a school. That thought came from seeing how the market was lacking creatives. There were just a bunch of them, who everybody knew, and the lack of competition made them just enjoy the position and not to do a good work for the industry. Just working for feeding their ego. So, the idea with Milk was to get interns, train them thoroughly, and then release them to the market, so that more competition would be created in the market and it could wake up a bit. And we did that for two or three years, and very nice and already well ranked creatives came from there. But we couldn't keep it for too long. Suddenly, Rimas (Milk's CD) and I were called by Regis and Aivaras, who had the project of opening a branch of an advertising school called The Atomic Garden, originally from Madrid. They wanted us to help them to put the Creativity Course together. We did so, and ended teaching the course. Later, Rimas became busier, and left me in the position of Head of Creativity at the school. It's already five years since that. And we're happy to see how the market really got a good creative boost. Now everybody tries harder, and the overvalued egos just took a step to the side.
How would you describe the level of creativity in Lithuania?
And how do you compare it with Latvia and Estonia?
Well, my first experience in the Baltics was in Lithuania. At that time, the clients were micromanaging a lot, not trusting the agencies. This was reflected in the process that the agencies had to manage them: chaotic, just calming fires, everything was an emergency because of some mistake, etc. I don't know how it was with other agencies, but the change we saw at Milk was that we started to learn much better how to justify our decisions, how to convince the client talking in their own terms, and also caring more about the business and less about winning prizes. So, the clients started, slowly, seeing that we knew what we were doing, and trusting more. Then the processes were trusted, they were micromanaging less, and better ideas were coming out. Trust made the clients be more experimental and strong, which made the agencies push towards that more. Not long ago, I started having projects in Latvia too, and I found myself in Lithuania of ten years ago. The clients still don't trust, and the agencies have chaotic processes. The problem is that they get used to them, and even when you go and tell them that it should be tougher and more strict to get better results, they think that randomness is what makes them have good ideas. But rarely those ideas actually end being good. So, there's a danger of them getting used to this process and not accepting to evolve. But I think that will change when the clients will evolve and demand a more evolved agency. It's also a matter of competition. If a foreign agency would start pitching in the Latvian market and offering a much better process, then the rest will have to get serious and stop playing around. Right now, their structure is quite different. Most of them have only creative directors, not creative teams, and the creative director does all the work alone, not consulting with anyone. But I've heard about agencies that are starting to change that. Estonia is a different case. Mainly because they have a different mentality. They are more serious in general. This makes them be more in the business side of the advertising. And I feel that creatives don't feel like the heroes of the agencies. They actually understand their position as tools for making the business better. The only problem is that I think they go too much towards that side, so they tend to be happy with ideas that solve the problem, and don't try to have ideas that go much further than that. But this is just a feeling, I am not an expert in the Estonian market. But I feel that they are doing a good job in that way, but on the other hand, they lack this drive that makes them have groundbreaking ideas every single time. But, again, it's just a feeling. Also, the market is very small, and I'm seeing that the agencies have very different structures, more like all in one, working each of them in a different way, and very few act as a normal agency. I see the lack of creatives that Lithuanian markets used to have long ago.
The creative industry of the Baltics in 2030 – How does it look like?
What kind of development do you predict within the upcoming years? 
I'm not good in doing predictions, but if I have to adventure myself into one, I would say that the Baltic agencies will be specialised in start ups and tech brands. I see that very few of the agencies are maintaining a traditional structure, and many of them are starting to be smaller and more flexible, which will make them easy to adapt to the need of any kind of business. Startups have many different structures, and it's difficult for them to adapt to a traditional agency way of doing things. Flexibility, I think, will be the key word, and that means that the agencies will reduce their sizes, the freelancer market will be much more effervescent, and the borders will be erased, because small flexible agencies will easily be able to manage clients in any country, just getting local freelancers for it. Also, I see that, once this happens, Scandinavia will be a fertile territory for them. They will be cheaper and reliable, and flexible, so that will make them attractive for other markets. Especially the more evolved and neighbouring ones.
What's the most inspiring thing you've ever seen?
The best piece of creativity of all times (must not be an ad)?
"El ingenioso hidalgo Don Quijote de la Mancha" and "El ingenioso caballero Don Quijote de la Mancha", the books of Miguel de Cervantes Saavedra, from the beginning of the XVII century. They have everything: mockery to other books, to society, the importance of being a dreamer, the absurdity of what we call normality, the importance of craziness in life, the glorification of values, beyond social classes, etc. I am graduated in Literature, so most of the techniques that we tend to glorify in Advertising have been used in one way or another in Literature and many other arts. And many more. That's why it's difficult for me to understand the glorification of the advertising creatives for things that writers have been doing for centuries already, and in a much more difficult way. Literature and all other arts are the main source of inspiration for me, much more than other ads.
Last but not least: What's the one thing you'd like to share?
From all the ads I made, there's one that I really like. It didn't do well in the awards territory, but I don't care. I like it because in those times of traditional advertising, this ad didn't look like an ad at all. The technique was taken from Literature, not from Advertising. And it was aired in the cinemas, before the movies, and felt like a short film. 
A LATVIAN VIEW
MD @ Latvian Art Directors Club
Annija Mežgaile is the managing director at the Latvian Art Directors Club, based in Riga. In this role, she is responsible for ADwards, the Festival of Creative Excellence, and she also runs the LADC Ad School. Before joining the LADC, Annija worked at the top Latvian agencies, such as Not Perfect Y&R Riga and DDB Latvia as an account director. Additionally, she has been an appreciated jury member of national and international creativity festivals. Visit the Latvian Art Directors Club
"I think nature has a lot to give. I really enjoy high mountains, forests, and seaside. The inspiration and energy comes when the mind is rested."
Hi Annija! Would you be so kind to give us a crisp 'tweet' of who you are.
My name is Annija and I am running the Latvian Art Directors Club (LADC) in Riga. After working as an account manager for more than one decade, I decided to contribute my passion about the industry in a new way: the passion about the craftsmanship of creativity. I believe this is the lifeblood of our industry.
Could you give us an idea about the Latvian Art Directors Club?
Well, the LADC has been founded fifteen years ago in 2005. The main idea of the LADC was and still is to build and cultivate a community of creative talent. It's about sharing knowledge, driving exchange and connecting people. Today, we have a community consisting of around 500 members who are mainly creative agencies and design studios, but also universities and academies as well as individuals such as freelancers. Nearly all of our members are based in the capital of Riga which is not that surprising since Riga is not only the hub of the creative industries but also the economical hub of Latvia in general. Cultivating our community includes various initiatives. The most important ones are our national festival of creativity named ADwards and our advertising school LADC skola. Both initiatives are highly appreciated by the creative industries and run quite successfully. We are very happy to honor the best creative work at ADwards year after year, complemented by a great national and international jury team. Moreover we are very proud to actively drive the level of education and knowledge forward with our advertising school. In addition to these initiatives, we see the need to connect the creatives with marketing people.  We are still looking for the golden formula to close this gap. The ADwards festival is a step forward.
Can you tell us something about the LADC skola:
What is it? What's the ambition? Do you know similar concepts offered by Art Director Clubs globally?
Not really. At least I am not aware of it. Our LADC skola is a local initiative following the ambition to encourage, foster and boost creative talent in Latvia. Because this is something we were lacking in the past. In Latvia, we don't have institutions like the Miami Ad School or The Atomic Garden, which is a privately-owned advertising school located in Lithuania. Our LADC skola has been established 6 years ago. Every year we are lucky to say goodbye to about 30 graduates which means that around 180 talents in total have been thrown to the market successfully. And the proactive students will always get a job. Our school is highly appreciated by the agencies. The 9-months program is an intense course consisting of 9 modules and 9 subjects, reaching from copywriting and digital stuff to production and strategy. It's a very broaden approach to teach the full spectrum of the advertising business. For the students it's a great opportunity to showcase themselves, their ideas and their talent. To make a long story short: the LADC skola is the fast track to enter the advertising industry in Latvia.
How would you describe the level of creativity in Latvia?
And how do you compare it with Lithuania and Estonia?
I would say that we definitely go the extra mile, even in little projects. I actually think people here are very ambitious and highly motivated. I also think that the potential is quite big. The industry is capable of delivering creative work on a high level. We have some exceptional people in the entire Baltics. Facing the fact that most of the projects are limited in terms of budget, the industry produces great stuff. I have noticed fantastic agencies in all three countries. So it's actually hard to compare. The only thing that comes to my mind is the perception of the countries itself. I mean Estonia is perceived as an innovative, progressive and tech-savvy country that acts as a home for start-ups and tech companies. Lithuania is associated with Basketball and big history. And Latvia? Not sure. I think the image of Latvia can be improved. The identity is not clear for me. 
The creative industry of the Baltics in 2030 – How does it look like?
What kind of development do you predict within the upcoming years? 
Internationalization. I would assume that this will be the most important development for the next decade within the creative industries of the Baltics. Obviously, we already work quite internationally. Open up to a more international way of collaborating will certainly have a positive impact on the industry itself. I think this kind of internationalization will mean a progress. Coming with this development, I think we are in quite an exciting sweetspot. Because the Baltic states are located right in the middle between east and west. Because people in Russia think we are Europe, and people in Europe think we are Russia. In fact, we are somewhere in between. The sweetspot as already mentioned. This mean we are able to understand and emphasize on both cultures, on both worlds. That's a big advantage we need to play much more confidently. Hopefully, this will also happen during the upcoming years.
What's the most inspiring thing you've ever seen?
The best piece of creativity of all times (must not be an ad)?
Hard question. I think nature has a lot to give and I miss it in every day life. I really enjoy high mountains, forests, seaside. The inspiration and energy comes when the mind is rested. 
Last but not least: What's the one thing you'd like to share?
Be more curious! This always is a good idea. Being curious and openminded about people, cultures – and different ways of thinking. 
AN ESTONIAN VIEW
Speaker, Trainer, Journalist & Consultant
Hando Sinisalu is a multitalented all-rounder: He works as a speaker, trainer, journalist, and consultant. With a 20+ years' experience in marketing, Hando has actively shaped over 200 conferences in more than 30 countries from South Africa to South Korea, from Indonesia to Spain. Moreover, Hando has launched several successful brands (Best Marketing, case.digital, Best of Global Digital Marketing) and wrote two top-selling books ("Best of Global Digital Marketing: Storybook 1 & 2"). Visit Hando
"The most inspiring thing is to see your children grow. And it is amazing how many things you can learn from them."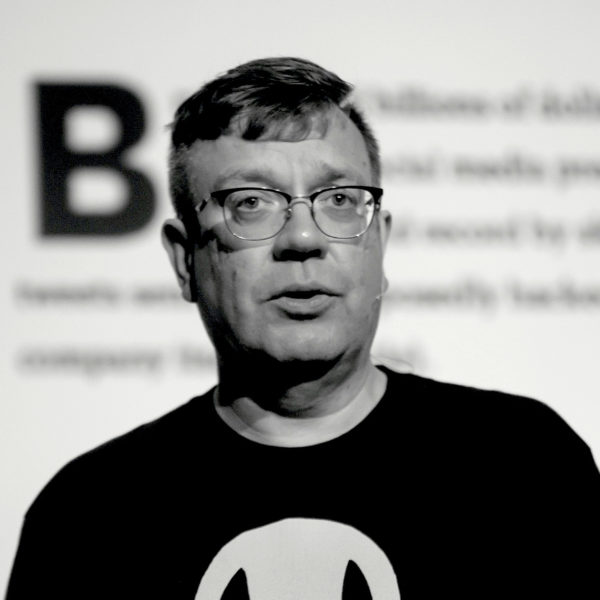 Hi Hando! Would you be so kind to give us a crisp 'tweet' of who you are.
I am a marketing journalist, conference producer and trainer with global footprint – I have been speaking in more than 30 countries in the World and interviewed the marketing professionals from 50+ countries.
For more than 20 years now, you've been quite a busy bee, not only in the local but also in the international marketing industry: What would you say are the most interesting, important or impactful things you've done or experienced so far?
My mission has been to educated and inspire marketers here in Estonia, but also in 30+ countries I have been active. It is hard to measure the impact, but tens of thousands of marketers have been exposed to my "products" – conferences, articles, speeches. Hope I have provided some value.
What are your future ideas and ambitions? Are there any specific topics or initiatives you are already working on?
Recently, I have been interested in content marketing, it is a hybrid between journalism and marketing and matches my experience very well. I think B2B marketing is the area that still lacks the knowledge of content marketing/branded content and this is where my focus is right now.
How would you describe the level of creativity in Estonia?
And how do you compare it with Lithuania and Latvia?
If we measure the level of creativity by the number of International advertising awards, then Baltics as a region is not doing so well. Estonian agencies have not even won the Lion yet. The population of Baltic countries is approx. 6 Million. If we look at the proportions – global creative awards per capita – then many countries of the similar size are doing much better. Finland, Israel, Norway, New Zealand, Lebanon – for example. But when you look at business creativity – the startup scene – the region is doing extremely well. So we are expressing our creativity in other forms than advertising, I presume. Also, based on the number of International creative awards, Estonia is behind Latvia and Lithuania.
The creative industry of the Baltics in 2030 – How does it look like?
What kind of development do you predict within the upcoming years? 
I think we are following the global trends with a little lag here. The biggest threat to the local media and marketing industry is the dominance of Facebook, Google and other global platforms. At the same time, such platforms also offer Estonian businesses easy and cheap (marketing) access to the global markets. But overall, Baltic creative industry is getting more open and global. We see increasing number of foreigners working in the agencies and Baltic businesses are going to new markets.
What's the most inspiring thing you've ever seen?
The best piece of creativity of all times (must not be an ad)?
The most inspiring thing is to see your children grow. And it is amazing how many things you can learn from them. I have two grown-up kids and I always discuss my (business) ideas with them to get a fresh perspective. Its very hard to choose "the" best ad ever, but one of my favorite is this (video below). Its crazy, unexpected and a really good story too!
Last but not least: What's the one thing you'd like to share?
I travel a lot, have visited 75 countries. And I could always share my travel stories (if somebody bothers to listen). I am writing this piece in Luang Prabang (Laos) and although I am an experienced traveler, this place exceeded my expectations.